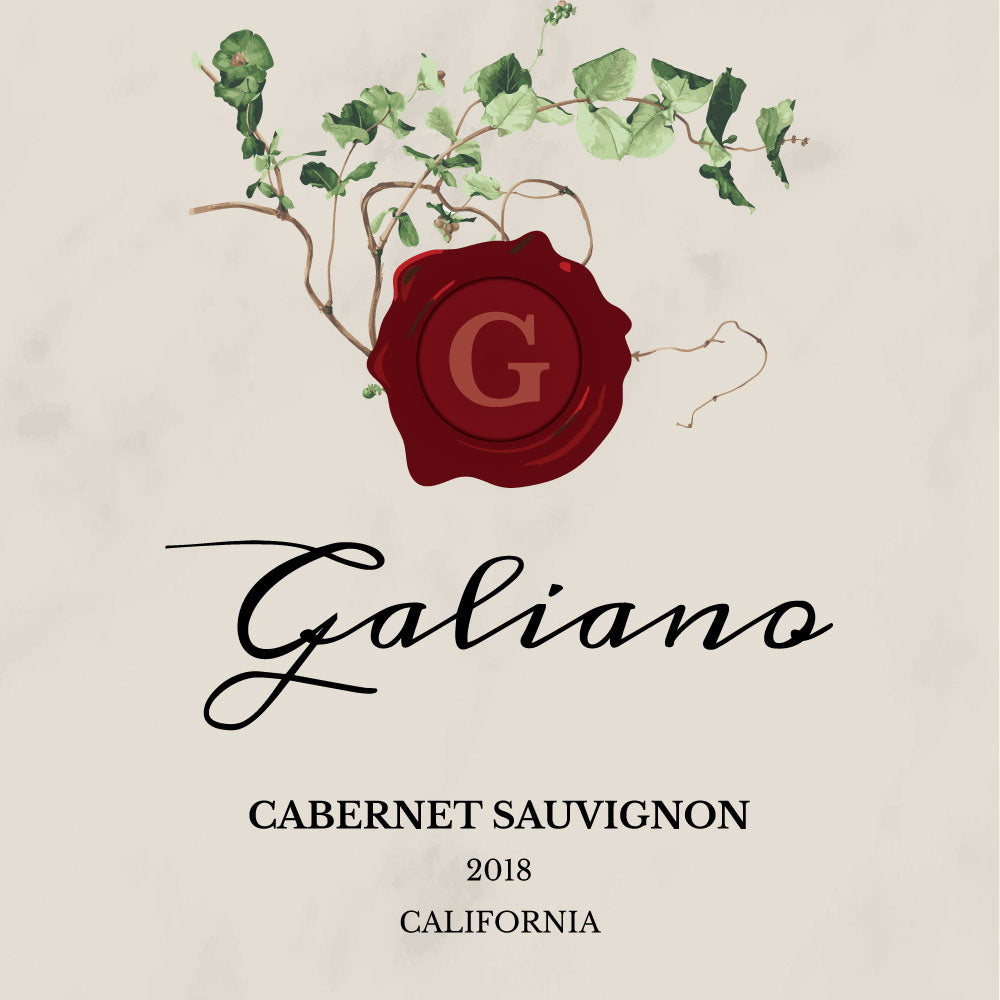 Galiano Cabernet Sauvignon 2018
Ships today! Order before 1:00pm.
---
Buy More & Save!
10% Off - Half Case
Buy a case of 6 bottles
$19.76 per bottle!
20% Off - Full Case
Buy a case of 12 bottles
$17.56 per bottle!
Discount applies automatically at checkout.
About our Cabernet Sauvignon
Our Cabernet Sauvignon is the one that started it all. Cabernet has always been a favorite of our wine makers and was the very first wine that we made. Because of that, this wine is the wine that set the standards in quality you'll taste amongst all of our varietals.
A symphony of rich flavors and elegant balance that promises to captivate your senses. Crafted for those who appreciate the finer things in life, this wine is a testament to the artistry of winemaking.

As you pour a glass, the deep, inviting color sets the stage for a luxurious experience. The first note to greet your senses is a lavish bouquet of blackberries and currants. This rich, fruity essence is the heart of the wine, offering a taste of nature's bounty in every sip.

But the complexity of Galiano's Cabernet Sauvignon doesn't stop there. It's beautifully layered with the deep, resonant flavors of dark fruit, adding a sumptuous depth to each sip. This rich tapestry of tastes is masterfully balanced with delicate hints of oak spice and vanilla. The oak aging imparts a subtle warmth and spice, perfectly complementing the wine's fruit-forward character.

What truly sets this wine apart is its texture. The smooth tannins provide a soft, moderately bodied palate that's both luxurious and approachable. It's a wine that's as enjoyable on a quiet evening at home as it is at a festive gathering with friends.

And then there's the finish – long, lingering, and utterly satisfying. It leaves a lasting impression, a reminder of the wine's quality and craftsmanship.
We enjoy this wine with well seasoned meats like beef, lamb, pork or deep chocolate treats.
---
Winemaking:
Barrel aged 12 months (40% American oak, 60% French oak) stainless steel fermentation and an 8 day pump over.
Alcohol: 13.5%
pH: 3.68
Total Acidity: 0.58
Residual Sugar: 0.55
Wine Specifications
Maturation:
Barrel aged 12 months (40% American oak, 60% French oak)
Appellation:
Lodi, California
Tasting Notes:
Rich flavors of blackberries and currants layered with dark fruit. Nicely balanced with oak spice and vanilla, and the smooth tannins provide a soft, moderately bodied palate and a long finish.
Alcohol By Volume:
13.5% ABV
---
What does this wine taste like?